2023
Hamburg: Songs from Home
International Women's Singing Group since 2018
every 2nd and 4th Monday in the month from 18.30 – 20.30pm in Goldbek-Haus/Winterhude in the frame of "Wir im Quartier– Together with Refugees"
registration and further information at: https://goldbekhaus.de/Marken/Wir_im_Quartier_Winterhude.php
2022
Songs from Home
25. 11. Theatre in Goldbekhaus:
Performance with Iranian Poetry and Iranian Songs
Polin Afshinnia and Christian Vollmer reading contemporary poetry with German translation
With the International Choir: Songs from Home singing Iranian Songs
2020/21
Because of the Covid situation, we could rarely meet, but we kept up the momentum and the group survived these challenging times.

2018/19
"Songs from Home" – Intercultural Singing Circles
Lüneburg: Every 1st and 3rd Friday in the month from 2 – 4pm we will meet at mosaique,
Katzenstrasse 1 in Lueneburg and we will sing together with people from
all cultures the songs that they bring to the circle. Everybody is welcome.
Further information about mosaique see: https://mosaique-lueneburg.de/
Hamburg: International Women's Singing Group from September 24th onwards
every 2nd and 4th Monday in the month from 16 – 18pm in Goldbek-Haus/Winterhude
in the frame of "Wir im Quartier– Together with Refugees"
(child minding is offered)
further information at: https://goldbekhaus.de/Marken/Wir_im_Quartier_Winterhude.php

Touch The Song
in The Museum of Lueneburg
Due to high demand the concert from 2017 will be repeated
on February 9th and 10th at 7pm
Tickets at the Box-Office of the Museum: 0049 – 4131 – 720 65 80
2017

Touch The Song
A personal encounter with songs of our planet Earth
in the Museum of Lueneburg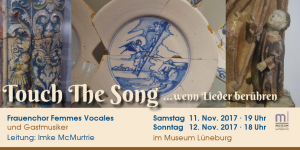 The repertoire of this concert is inspired by the relationship between the human being and
the divine, nature and community. The most beautiful expression of this we find in traditional
song – healing- and cradle-songs, love-songs and poetry. The women's choir "Femmes Vocales"
is cultivating this original bond and will present songs from various traditional cultures in a beautiful and intimate setting.

Workshop Concert With Soloists from the Choir
Benefiz-Concert for the Project:
"Therapies for traumatised children and young refugees"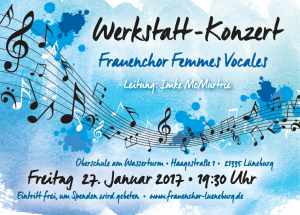 2015
Concert in the Museum of Lueneburg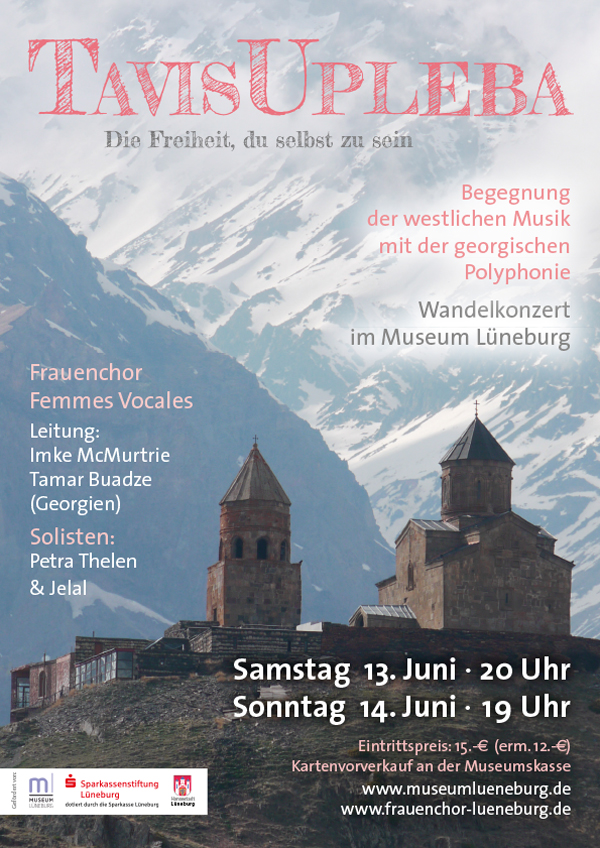 "Tavis upleba – Freedom to be yourself" – A Georgian-German Choir-Project directed by Imke McMurtrie and Tamar Buadze.
13. and 14. June 2015
27. and 28. November 2015

2014
Concerte "Resonanz" in The Town-Hall and The Music-School of Lueneburg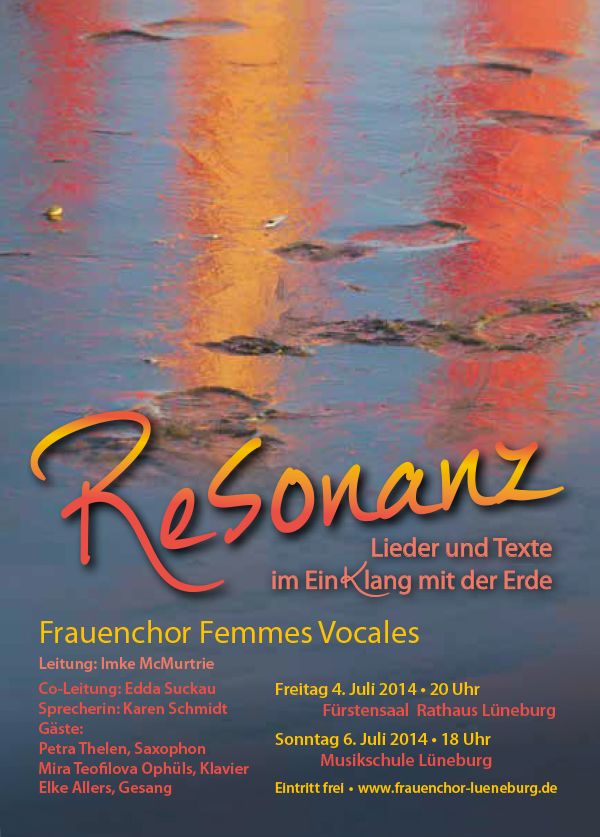 Jubiläumskonzerte anlässlich des 10-jährigen Bestehens der Chorleitung unter Imke McMurtrie.
4. und 6. Juli 2014

(Zeitungsartikel (PDF)
"Femmes Vocales" – Frauenchor-Projekt: 
In Lüneburg seit 2004 unter der Leitung von Imke McMurtrie
Die Frauen von Femmes Vocales singen Lieder aus verschiedenen Kulturen, Traditionen und Glaubensrichtungen: heitere, melancholische, ruhige, lebhafte, bekannte, ungewohnte …
Sie singen nicht mit dem Anspruch auf Perfektion, sondern sie möchten die Freude an der sozialen, heilsamen und harmonisierenden Seite des Singens gemeinsam erleben und weitergeben.
2013

Georgian-German Women's Singing Project 
Music ethnologists and singers from nine countries of Western Europe will exchange songs of their own traditions with the Georgian women's choir Tutarchela. In exchange the Georgian singers will teach songs from their own polyphonic tradition. The project will culminate in final concerts in Georgia and possibly also in the countries of the other participants. The project is supported by the patronage of the Embassies and Cultural Institutes of the participating countries.
Rehearsals and concerts will take place in May 2013 in Tbilissi/Georgia.
For this project we are still looking for sponsorship: please contact us.
2012
"The Sound of Silence", Monestary Luene in Lueneburg/North-Germany
July, 6th and 7th, 2012 at 7 and 8.30pm
A musical-scenic walk with instrumental and vocal music from medieval to contemporary composers with the music-ensemble Megaphon Hannover and the women's choir Femmes Vocales e.V. Lüneburg
artistic director: Lenka Župková
choreography: Mikael Honesseau
choir conductor: Imke McMurtrie

2011
Femmes Vocales – Tutarchela (Republic of Georgia): Women's Choir Exchange
2011: The women's choir Femmes Vocales initiated this project to create international mutual understanding between Georgia and Germany through sharing traditional polyphonic songs. This project was supported by the patronage of the German Embassy in Tbilissi and the major of the City of Lueneburg. The objective was to build a bridge between two musical traditions and to enable an inspiring exchange of two very different approaches and methods of singing.
The embracing of the foreign, and appreciation of one's own singing culture is a unique and practical way to international mutual understanding. Singing together has always been an excellent way to bring people together, which has unfortunately become forgotten in the face of an increasingly passive consumption of music.
This musical exchange between Georgian and German women has also given the participants an insight into the different day-to-day realities of life for the women of each country.
"Canti di Guarigione" – Healing Songs with the voice ethnologist Germana Giannini
Since 2006 Germana and Imke have been meeting regularly in Italy, Spain and Germany
for music-ethnological exchange and concerts to experience and research the healing capacity of ethnic singing. Both singers, Germana and Imke have been studying with indigenious people and singers from many different countries to explore the significance that ethnic singing can have for us all.
The sharing and transmission of the songs from different traditions is done with an attitude of utmost gratitude and respect towards the people and the culture from which they stem. It is a reverence for the Oneness of all traditions and for the experience that brought these songs to life. For people have often survived traumatic experiences, political oppression, social destruction, economic disaster, inner and outer hostility, crisis of identity and spiritual decay with the help of their singing. One can almost say that the power of song is especially appreciated and vivid in cultures where there is great suffering. Maybe singing together and listening to each other comes easier when there is nothing else to hold on to or to pretend.
"Femmes Vocales" – Women's Choir Project:
in Lueneburg, North-Germany since 2004, conductor Imke McMurtrie.
The repertoire of the women's choir Femmes Vocales includes songs from many different cultures, traditions and creeds: happy, sad, quiet, lively, well known and unknown songs …
The women of the choir don't sing to achieve perfection, but to experience and pass on the joy of song and its intercultural, social, curative/healing and harmonising effect.